News / media
10 of January, 2022
Upfitting Fire Mobile Command Centre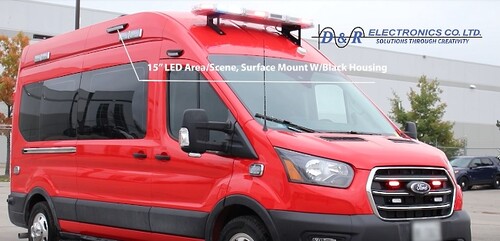 Established in 1976, D&R Electronics Company Ltd has been the pinnacle of design, manufacturing and installation of (electronic, mechanical, and 3D printed plastics) First Responder Fleet Solutions in Canada and the USA. Our years of experience, feedback from clients, and reforms have helped us build better creative solutions.
Here is a 2021 Ford Transit 350 Tall Roof converted into a command centre equipped with creative solutions from D&R Electronics Company Ltd.
Grill Lights and Underside Mirror Lights
Sleek low-profile Genesis Sync 12 LED Surface Mount on the grill and Deck mount Flashing Red/Blue SAE Class I Certified LED modules on the underside mirror provide versatility for a wide range of mounting options. All modules are sealed and waterproof for external mounting applications. A list of flash patterns is available and multiple Genesis sync 12 modules can be synchronized to flash either simultaneously or alternately with each other.
Prowler Lightbar(PL56B) With 795H Van mount.
Made from a corrosion-resistant aluminum frame, this prowler lightbar provides 360°coverage with selectable flash patterns. It is UV treated and screwed down to the base lens with a power consumption of 0.55-06 amps per module (total amperage of 12.5 approx.) and operating temperature of -40°C to +65°C. It comes with optional auto dimmer functionality and meets all applicable SAE Class1 and California Title XIII when properly configured. The light bar is available in 22/35/46/56/66/76 inches variants and a width of 1.0 and height of 2.75 inches without the mounting feet.
Surface mount Warning/ Flashing lights and Scene Lights on side of Van
K70-BC00-1 Blue/ Clear LED, K70-RC00-1 Red/Clear LED with K70-IC00-1 surface mount bracket, this powerful 7"x 3" warning lamp fits standard mounting holes. It comes with auto-sync technology and a steady burn model available for all colours. Other features include guaranteed circuit board protection, impact-resistant lens, UV-resistant automotive exterior lighting grade, polycarbonate IP68 rated for long-term dust and water intrusion. It complies with NFPA 1901 and Triple K specifications.
Traffic Director 10 Genesis II 12 LED modules (GT2F12-10ATD-PIC)
This traffic director is SAE Class1 certified with Genesis user-replaceable modules. It consists of left arrow, right arrow, centre out, flasher, dimmer and an auxiliary output. Other features include sleek, low-profile, sealed waterproof modules and AS5500 External controller with 20ft cable (optional cable length available from 30ft to 100ft in 10ft increments). Check out our TC-12 arrow boards for more options.
Taillight and Headlight assembly flashing inserts (SL12IL-X-N)
It consists of 12 LED ultra-small elements that virtually emit no RFI/EMI noise, and meet SAE J1113-41 Class 5 requirements. Other salient features include: Compact In-Line Controller and synchronization units, die-cast aluminum base with a base diameter of 1.50" and height of 0.8", encapsulated for moisture, safe low voltage wiring including pre-wired 10' cable and over 30 flashing patterns.
Storage Cabinet with 3 drawers (934-0912A) with tabletop
Built with lightweight aluminum, this storage cabinet comprises two six-inch deep drawers and one 11.5 inches deep drawer cabinet with a 3/8" poly board tabletop. The drawers are equipped with thumb latches to avoid opening when the vehicle is in motion.
LED Map light Available in 6" long - CA-0128 / CA-0128-USB / CA-0128-24V, 12" long - CA-0129 / CA-0129-USB / CA-0129-24V, 18" long - CA-0130 / CA-0130-USB / CA-0130-24V. 3-Phase light intensity 1W LED. 280o Turning Radius, 1-Watt Red and White LED and also available option for UV LED.
Ceiling Lights (E08-WCR0-1)
It provides excellent interior illumination with dual intensity, vibration proof, moisture-resistant design. It is NFPA and Triple K compliant with a reliable performance of over 50,000 hours. Powerful output of 1000 (18 LED) or 1550 (31 LED) lumens illuminates a wide area. Accu-Color LEDs provide superior colour rendering for more natural skin tones to facilitate a more accurate diagnosis in medical lighting situations. The smooth lens is easy to wipe clean.
Computer mount, power supply adaptor(LT6600-A, CF54DS-PS-2RFP)
Lt-6600 Computer Mount with CF54 D&R built DC power supply and 2 RFP mounted on a Ford Transit LT6600 Mounting Base
Oxygen Tank Cabinets 934-0918A (Large Tanks Cabinet) and 934-0917A (Small Tank Cabinet)
The large oxygen tank cabinets are able to hold 18 large oxygen tanks. The small tank cabinets are able to hold approximately 4 small oxygen tanks.
These solutions together make the build complete and provide the fire department with a productive and ergonomic work/storage space.
Visit us at D&R Electronics (dandrelectronics.com) or join us on social media for new products and the latest updates.
Back to news
No comments yet...
*** Your email address will not be published.