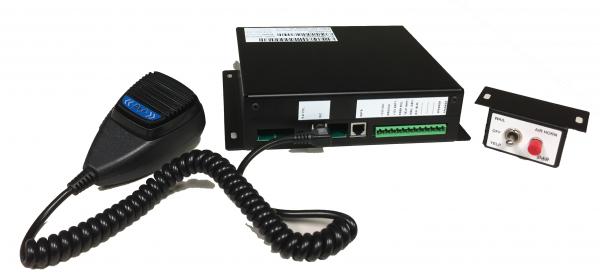 ES6201-IQ
Features
ES6201-IQ siren uses microprocessor based technology to provide a compact electronic siren system for use in emergency vehicles
Ideal choice for undercover applications-small compact control head and 18' long harness provide the installation flexibility for such applications
Siren Mode - two available siren tones: Wail and Yelp
Siren tones can be selected using the toggle switch from the remote controller
- switch UP for Wail tone
- switch DOWN for Yelp tone
Manual Mode - Air Horn
It is momentary mode activated by holding down the Air Horn switch on the siren's remote controller
Note: Manual mode will override the Siren mode
Park Kill Mode - This is activated by providing a connection from the park position switch in the vehicle to the park kill input, this will automatically interrupt the siren tones if they are engaged, this input is GND activated.
THIS DOES NOT KILL THE AIRHORN
Optional Features: Allows messages to be broadcasted over the siren speaker. The P.A. function will override all other functions when accessed using microphone.

Supporting Files
Wail
Yelp
Literature / Downloads
Read more about our equipment in newsletter section
Technical specifications
Input Voltage
11-16 Volts DC
Input Fuse
20 Amp (External)
Power circuit built-in protection
Short circuit and reversed polarity
Operating Temperature Ranges
-30°C to +65°C
Standby Current
50mA +10% during Ignition input OFF time-out 0mA after time-outSIREN
Frequency Range
700 to 1640 Hz (nominal)
Amplifier Output Impedance
11 Ohms
Related products