News / media
23 of June, 2020
Outfitting the Quintessential Police Car: The Ford Interceptor Utility 2020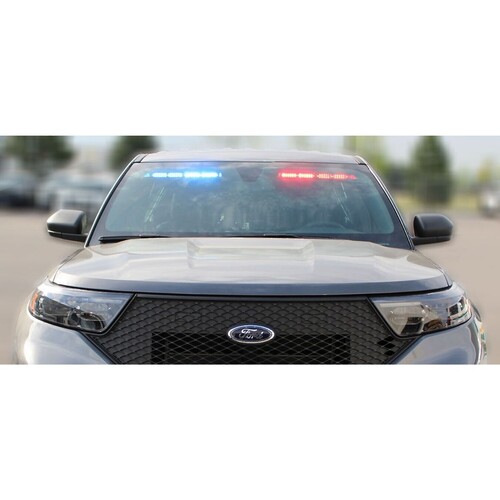 Police vehicle models differ from their civilian counterparts firstly with an upgraded engine wherein the controllers detect pursuit driving and engage special tuning optimized for faster throttle response, transmission logic, and reduced concern for fuel consumption. Larger brakes and an upgraded suspension provide better stopping power as well as superb handling as the vehicle accelerates at an alarming rate. Compared to civilian vehicles, police cars have more armor, storage space, and require outfitting accessories such as vehicle storage cabinets, laptop mounts, rugged desktops, and more.
Perhaps the most shining example of a police vehicle is that of the newly designed 2020 Ford Police Interceptor Utility.
Having worked for more than half a century alongside law enforcement, Ford has raised the standard in the art of manufacturing police vehicles, bringing efficiency and safety to the frontline like never before.
The 2020 Ford Police Interceptor Utility is the next generation of police vehicles. It is the first-ever pursuit-rated hybrid police SUV, as well as the only vehicle engineered to meet the 75-mph rear-impact crash test, combining many different levels of functionality all in one vehicle.
The 2020 Ford Police Interceptor Utility was derived from the Ford Explorer, a popular civilian vehicle, but has even more storage space than the Explorer, allowing it to be outfitted with state of the art vehicle storage cabinets. Now, its hybrid technology has allowed it to increase its fuel economy by 26%, leading to potentially fewer fill-ups. What's more, the Interceptor Utility's lithium-ion hybrid batteries also help to power on-board electrical equipment while the gasoline engine is shut off.
Emergency Vehicle outfitters like D&R Electronics play a vital role in making police fleets even more effective and functional by supplying crucial electronics and mechanical accessories. We will design, manufacture, and install accessories from vehicle storage cabinets to LED lighting and more, using our 40+ years of experience in the emergency and public works sector to our advantage.
At D&R Electronics, we carry a number of products, including vehicle storage cabinets, siren speakers, and SAE class 1 certified light modules with various interior and exterior mounting possibilities to provide lighting and visibility meeting or exceeding industry standards to keep first responders and civilians aware and safe in an emergency situation.
Here is a breakdown of all the products we can offer for the Interceptor Utility 2020:
Consoles
All of our consoles allow for the mounting of up to five pieces of remote head equipment (optionally provided and installed by D&R). Users will also be able to benefit from 12V outlet mounting as well as the possibility of OEM USB mounting, depending on the model chosen. All console models come with the option for an armrest. Whether stationary or sliding, they will provide maximum comfort for the user all while maintaining access to any additional equipment. These consoles have been designed specifically to fit the Ford Interceptor Utility 2020, boosting the comfort of the user by keeping everything organized and easily accessible.
Glove Box Printer Conversion Kit
The idea behind this product was to completely replace the factory glovebox with a solution that would provide an operational space for the Brother Printer (models PJ600/PJ700)/Ticket Printer while also providing two storage compartments for any additional items the vehicle occupants might have. After all, storage is incredibly important in police vehicles, which is why we also produce top of the line vehicle storage cabinets. Another key feature to note with this product is that the printer can be used with the storage compartment door in the closed position. This is done using a slot in the door and a guide for the paper to run through to provide a seamless print every time.
Sub-frames
Just like vehicle storage cabinets, the sub-frames of a police vehicle have to be carefully designed so as to properly fit the specific vehicle and provide easy access and efficient operations. D&R Electronics manufactures three different models of sub-frames that have been specially designed to fit the 2020 Police Interceptor Utility. Each model has its own unique design that allows the customer a number of options when outfitting their vehicle that will ultimately provide them with a better end user experience.
Vehicle Storage Cabinets
The 934-0880A vehicle storage cabinet is a perfect fit for the Interceptor Utility. It contains an electronics drawer in addition to a single regular drawer, complete with a wire management arm and a removable electronics tray to keep everything organized. As far as vehicle storage cabinets go, this is a simple and reliable design that brings great utility to the user.
Speaker Brackets
D&R Electronics manufactures two different types of speaker brackets for the Interceptor Utility. The 935-0094A is capable of mounting the DRCS110 speakers. The 935-0095A is for the low frequency Thunder Speaker.
Window Bars and Guards
You can count on the window bars and guards provided by D&R Electronics to further fortify the 2020 Police Interceptor Utility. Our reliable metal products will ensure the full security of your vehicle when transporting prisoners as well as the protection needed to deter individuals from tampering unattended vehicles.
Lighting
Apart from the generic (vehicle independent) lighting options provided by D&R Electronics, D&R Electronics offers two undercover lighting products for the Interceptor Utility: the GSVL-IC-EXP20 windshield visor interior light bar and the GT2FTL-PIC-EXP20 tailgate exterior light bar. Our interior light bars feature super bright SAE Class 1 certified split red and blue LEDs, while our exterior light bars are available in amber, blue, clear, and red LEDs, with up to fifteen different flash patterns. Single or dual color LED modules are available for the exterior light bar, which are rated for 100,000 hours of operation.
Every Ford Police Interceptor Utility fleet needs a reliable emergency vehicle outfitter to extend its potential. Established in 1976, D&R Electronics has been designing, manufacturing and installing solutions for emergency vehicles, including mechanical, electronics, and 3D printed plastic technology products. You can get the best vehicle storage cabinets, light and siren control systems, traffic directors, and more. Check out our website to see our full catalog of products!
Back to news
No comments yet...
*** Your email address will not be published.