Evolution of rugged data devices and their docks in police cars
September 19, 2023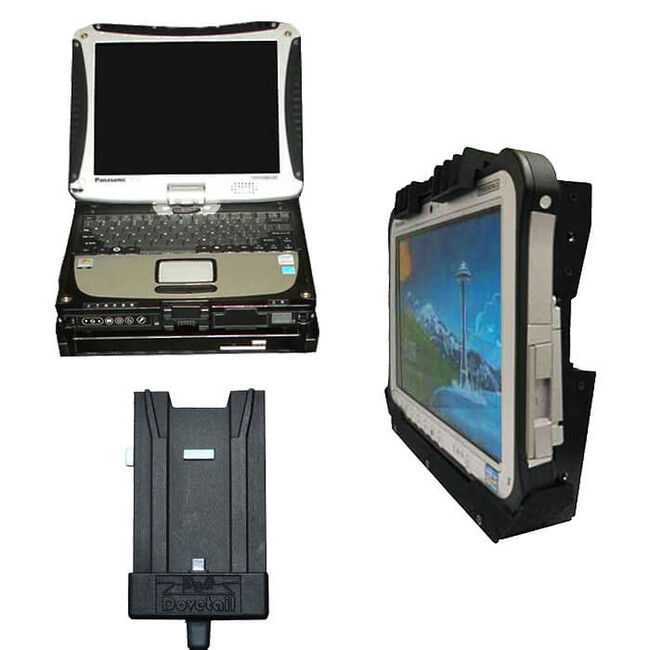 As technological improvements in microprocessors and digital electronic storage systems enable hardware engineers to contain in smaller enclosures and yet expand functionality of mobile data devices, law enforcement departments across the globe have been a beneficiary in partaking this technological advancement. Be it LED beacons, police sirens, or the use of rugged computing devices, there has been a steady evolution towards sleeker, safer and more efficient products. Rugged computing devices themselves have seen an exponential advancement over the years, starting from rugged laptops to handheld tablets and now to palm held devices like smartphones, which can do all that the laptops did and much more. The rugged computing devices are an integral part of a police cruiser, enabling the officer to access central databases, records and other relevant information to make a well informed decision on site.
However, these rugged computing devices are dangerous in fast-moving, rapidly accelerating, or suddenly-stopping vehicles unless they are well secured evenly during impact or vibration using specialized docks. In this blog, D&R Electronics Co. Ltd., a pioneer in designing docks for rugged computing devices, details the evolution of these devices along with their respective docks.
Evolution of rugged devices
Panasonic CF-54
Part of the Panasonic Toughbook family of rugged laptops, the Panasonic CF-54 featured a magnesium alloy design, spill-proof capabilities, a backlit keyboard and more. It also featured a secondary battery which can be swapped out in emergency situations. This semi-rugged laptop has since been discontinued. The size of the laptop and the accompanied secure dock and port expander modules would take on a large part of the officers in car area. Obscuring visibility and at times safety devices like air bags.
Panasonic FZ-G1 (series)
After the era of rugged laptops a very welcoming improvement was the Panasonic FZ-G1 a flat touch screen rugged tablet. With a 10'' dimension, it was known for its lightweight and waterproof 10-point digitizer pen. It passed the rigorous MIL-STD-810G and IP65 standards, with an additional option for an infrared camera. This was much sleeker than the laptop and could be used with or without keyboard and it opened up more options for mounting the tablet docks.
Samsung XC - (Samsung XCoverPro)
The latest evolution of processors has enabled cellphones to be as versatile and powerful as full-fledged computers, enabling the advent of rugged palm held devices like the Samsung XC or Samsung XCoverPro. With a MIL-STD-810H rating, it offers significant resistance against dust, sand, impacts and shocks. Moreover, with an IP68 rating, it is built to withstand spray, moisture and even complete submersion in shallow water. It also features an extra sensitive touch screen, enabling touch commands through gloves, or even if the device is wet. Most importantly, it has the Samsung DeX® Feature which allows the mobile phone to operate like a full-fledged computer when connected to a monitor, keyboard and mouse.
With the salient features of these rugged devices out of the way, the next segment explores the respective docks of each device, designed by D&R Electronics Co. Ltd.
CF-54
Features:
- Available in 4 different models: CF54DS-PS, CF54DS-PS-2RFP, CF54XDS-PS and CF54XDS-PS-2RFP
- Compliant with the MIL-STD-810F standards
- Floating dock connector and internally protected circuit board
- Connected with plastic caps on the end to prevent sharp corners
Panasonic FZG1 dock
Features:
- One 16V DC I/P Power jack
- Made of rugged steel with a black coat finish
- Floating dock connector designed for easier alignment
- Equipped with pre-drilled holes, enabling installation and use on all D&R mounts
Dovetail docks
Features:
- Universal mounting solution for a variety of Samsung Galaxy smartphones, including Samsung XCoverPro.
- Different ports for HDMI, Power, and USB 2.0 and 3.0 respectively.
- Facilitates dual-screen display
- Available in HD+, FHD, and WQ HD Resolutions
To know more about our docks, or other emergency vehicle solutions such as police sirens, traffic arrows, message boards, LED beacons, and perimeter lighting, contact us at D&R Electronics Co. Ltd.
A pioneer in constant technological innovation with over 40+ years of enriched experience and knowledge, we have served the police and public utility fleet solutions in Canada and around the world.