News / media
15 of September, 2020
D&R Electronics Co. Ltd.: Creative Solutions for Emergency Fleets, Including Design, Manufacture, and Install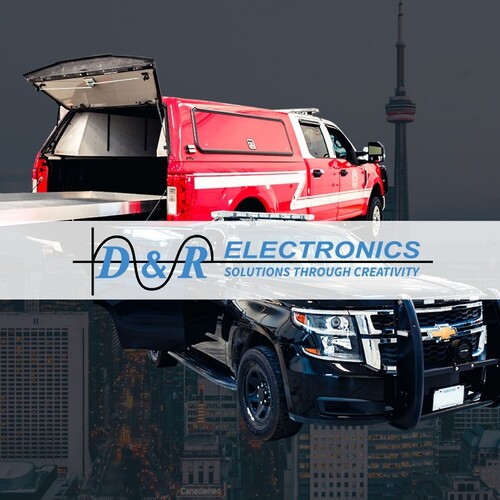 Since 1976, D&R Electronics Co Ltd. has been serving a diverse global market of First Responder Fleets (Police, EMS, Fire) directly or through our valuable partners who share in our mission by providing creative quality solutions, services, and accessories.
D&R Electronics Co. Ltd. Journey begins with its founder Mr. Rinaldo Darolfi coming into Canada in 1958 from Italy, having been a master plasterer in Rome. He quickly realized plastering in Canada was not appreciated as an art and decided to seek a more creative and stimulating vocation.
Mr. Rinaldo Darolfi turned his focus to electronics – with creativity, dedication to a new vocation, and hard work, Mr. Rinaldo Darolfi helped design language laboratories for schools across Canada. He soon realized that the school funding for building language laboratories had dried up, but that there was a market for servicing and upgrading these language laboratories. This led to the formation of D&R Electronics Co. Ltd as a repair center, with valued customers like Oscar Peterson.
Smith and Wesson, in their diversifying effort into the emergency light and sound market in Canada, introduced D&R Electronics Co. Ltd. and Mr. Rinaldo Darolfi to the Emergency Lighting Industry. Mr. Darolfi's expertise was valuable as the effort to convert mechanical sirens to the new electrical sirens had left a void in the ability to service and maintain the new electrical siren systems and the then new Light Bars in 1977. D&R Electronics Co. Ltd. filled in the void maintaining the systems with OEM parts for the Ontario Provincial Police.
Mr. Rinaldo Darolfi saw a need to pioneer a custom panel for the O.P.P. after noticing the poor quality OEM parts and frequent failures. Discussions with and consent from Mark Thompson, then Director of Fleet Operations, gave Mr. Darolfi the go ahead. D&R Electronics then turned into a design, manufacture, and install entity for police vehicle solutions. D&R Electronics Co. Ltd initially manufactured arrowboards and electronic controls which then led Mr. Rinaldo Darolfi to pioneer the First Police Vehicle Console in between seats with electronic switching panels that controlled everything.
Today, D&R Electronics Ltd. can provide Creative solutions meeting industry standards in Electronics, Mechanical, 3D printed plastics and Injection moulding. D&R Electronics is an ISO 9001:2015 certified company meeting quality compliance standards. Whether it is perimeter lighting, storage solutions, consoles, or specialized electronics, D&R Electronics Co. Ltd. has been designing, prototyping and engineering effective and versatile solutions backed with almost half a century of rich experience.
With a 36,000 sq. ft. facility and more than a hundred employees dedicated to customer fulfillment, of which more than 70% have been a part of the D&R Family for more than 15 years, D&R Electronics Co. Ltd. delivers satisfaction through its solutions from perimeter lighting to K9 kennels, meeting applicable standards and expectations of a good after sales service to its worldwide partners.
D&R Electronics Co. Ltd. remains un-wavered in its mission:
"Because Life Matters: D&R aims to empower first responders and the public utility sector with personalised solutions using cutting edge electronic, mechanical, and plastic technology".
D&R is committed to providing First Responder fleet solutions whether it be as basic as Perimeter lighting or more complex solutions like using mobile devices for desktop computing in-vehicle. Solutions such as mechanical storage solutions or even floor mount system designs need extensive experience to overcome complexities of a first responder vehicle's power, electronic noise created by various electromagnetic fields, mechanical pull ratios, airbag compatibility etc. to build a safe, efficient and productive solution for a first responder.
Specialized electronic systems such as programmable power management systems designed by D&R Electronics Ltd. enables the first response vehicle to shut down accessories like perimeter lighting based on low voltage or timers, leaving enough battery power to turn the car back on again, enabling the First responder to be free to execute his duty. Tilt and swivel tablet mounts/Keyboard trays provide comfort to the first responders while executing duties either in the driver's seat or in the passenger seat, while being airbag compatible to ensure the safety of the First responder.
D&R Electronics Co. Ltd. thanks its global partners for their product feedback and field testing, enabling the company to advance its designs and develop better solutions.
For more information on our products, visit our website or join us on social media for new products and the latest updates.
Back to news
No comments yet...
*** Your email address will not be published.