A Deep Dive Into 3D Printing And Its Role In Manufacturing Dovetail Products
July 12, 2023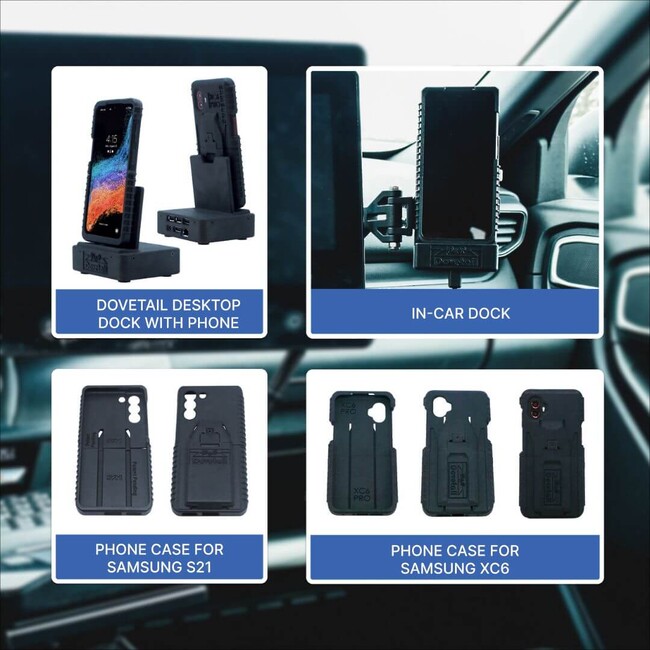 A variety of elements go into making a modern police cruiser. From LED beacons and sirens to phone docking stations and more, this equipment increases the safety, productivity and convenience of the first response officers. One just product offered by D&R Electronics Co. Ltd. is the Dovetail series of products. The Dovetail range of products comprises of phone cases, Mobile phone docking stations, port expanders for mobile phones, touchscreen displays and more. Manufactured using additive manufacturing or 3D printing technology, these products are innovative and when used in conjunction with Samsung DeX Technology in place of traditional computers bring down the equipment cost of ownership. In this blog post, the basics of 3D printing, its benefits for goods manufacturing, an overview of the EOS 396 printer and some Dovetail products will be addressed in detail.
3D Printing and Additive Manufacturing.
Additive Manufacturing and 3D Printed Products?
A 3D printer is a machine that creates three-dimensional objects by printing layer upon layer of material. Unlike traditional printers, which only print on two dimensions, a 3D printer can create products with height, width, and depth.
The most popular type of 3D printing technology is called fused deposition modelling (FDM), which works by melting and extruding plastic filament to build up layers of an object. Other common 3D printing technologies include stereolithography (SLA), selective laser sintering (SLS), and poly jetting.
The process itself can be approximately divided into 3 parts:
● Using 3D modelling software to conceptualize the product
● Since the product will be created in layers, it is essential to slice the 3D model. This is done using Slicing software.
● The product is finally printed with the help of a nozzle.
Market leaders like Stratasys Ltd. are moving beyond prototyping toward utilizing the agility that 3D printing can contribute to the complete manufacturing value chain. Prominent Global players in the 3D printing market include Stratasys, Ltd, Materialise, EnvisionTec, Inc., 3D Systems, Inc., GE Additive, Autodesk Inc., Made In Space, Canon Inc., Voxeljet AG. Materialise and EOS 3 series from Electro Optical Systems for industrial production is an interesting combination. With automation tools like Polymer loaders, Parts Breakdown, Parts Cleaning, Parts Surfacing and Parts dyeing is a step closer to complete manufacturing.
EOS 396
The EOS 396 is a state-of-the-art 3D printer which can be integrated with IIoT or the Industrial Internet of Things, an offshoot of the Internet of Things. Here are some features and specifications of this machine:
● Uses over 26 parameters: Parameters determine the accuracy of the printing and the quality of the product being made. Hence, with 26 parameters, the EOS 396 is cutting-edge 3D printing technology.
● 14 Materials to choose from, to create different types of products as per customer specifications.
● Integration Of Smart Scaling and EOSAME: These features ensure that the mechanical properties of the products being manufactured are exceptional.
● Fully Integrated Into IIoT: Right from the conceptualization of a part during CAD modelling to the finished final product, the entire process is digitized thanks to EOSCONNECT Core.
3D Printing - A New Era Of Goods Manufacturing?
Here are 4 ways in which 3D printing has revolutionized goods manufacturing:
Production On Demand
With 3D printing, businesses can now produce goods on demand, without any upfront investment in inventory. This means that businesses can take on less financial risk, and they can respond quickly to changes in demand.
Increased Efficiency
One of the main benefits of 3D printing is that it enables manufacturers to produce goods much more quickly than traditional methods. This is because there is no need to create moulds or dies, which can be a costly and time-consuming process. Instead, all that is required is a 3D model of the product, which can be created using CAD software. Once the model is created, it can be sent directly to the printer and produced quickly.
Cost-Effective
3D Printing has drastically lowered the cost of goods manufacturing. In the past, companies would have to spend large sums of money on machinery, labour, and materials in order to Prototype/Manufacture a product. With 3D Printing, is all about creating a 3D model using CAD and print if the design does not work make changes to the model and print again getting the perfect product quicker All that is needed is a 3D Printer and the necessary materials. This means that companies can produce products much cheaper and quicker than before. Without the need for Machining and Casting tools like moulds and Dies
Easily Customizable
Another added benefit is the creation of complex and customized parts with ease. All it requires is watertight modelling in the CAD software and the part can be created without consuming too much time.
Dovetail Line of Products
Dovetail Line of products are manufactured using Additive Manufacturing or 3D printing technology, Due to the design challenges and ever-changing products (phones), it's impractical to use redundant technology
These Phone cases are built for each DeX-enabled model of the Samsung brand.
.Cases Features
● Detachable Hard phone cases with guides for a perfect hook-up with a docking station in the office or in a fast-moving First Response Vehicle.
● Cases are customizable and personalized upon request with logos
D&R Electronics Co. Ltd. has designed and implemented Dovetail docks and cases with 3 Major First Response organizations in The United States and Canada.
The Dock Features
· Universal adaptor to receive and lock in place any phone model case built by D&R Electronics.
· Connect up to 6 USB accessories or monitors to a dock.
· Cell phone charging when docked
To know more about our various Dovetail products, as well as electronic products such as traffic arrows, message boards, LED beacons, and perimeter lighting, contact us at D&R Electronics Co. Ltd. or follow us on social media
.
A pioneer in constant technological innovation with over 40+ years of enriched experience and knowledge in Police and Public Utility Fleet Solutions in Canada and around the Globe..